Bellamys and Ötzi Top German Singles Download Chart with New Music from Collaborative Album,'D.J. Ötzi & the Bellamy Brothers: Simply The Best'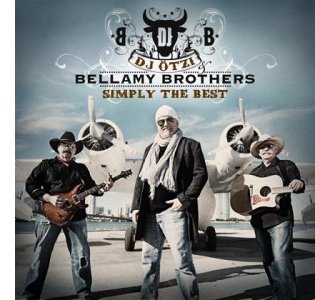 Nashville, Tenn. (March 21, 2012) – For years, David and Howard Bellamy of the multi-platinum selling Bellamy Brothers have been a dominating force throughout Europe. Each year the brothers make several tour trips across the Atlantic, selling out shows throughout the entire continent.
This year is no exception and with their recent collaborative efforts with one of Europe's biggest pop stars, D.J. Ötzi, the Bellamys are already a buzz 'across the pond.' Ötzi and the Bellamys spent the last six months hard at work in the studio, recording their upcoming European release, D.J. Ötzi & the Bellamy Brothers: Simply The Best (Universal Music Germany).  The album features Ötzi and the Bellamys singing together on some of their biggest hits, as well as several American classics.  Tracks include, "Crossfire," "The Gambler," "Islands In The Stream" and "Sweet Caroline," among others. The marriage is already proving to be a success, with "I Need More of You" at #1 followed by four of the album's recently released singles topping Germany's Top 100 Single Download Chart and the album at #29on the Top 100 Album Download Chart.
"It's been very exciting working with D.J. Ötzi," says Howard Bellamy. "He's into every aspect of the process from choosing the songs and recording them to the making of the videos and the doing TV appearances. It's been loads of fun."
D.J. Ötzi & the Bellamy Brothers: Simply The Best is available in European retail outlets thisFriday, March 23.  In support of the release, David and Howard are currently en route to Germany for several national television appearances and performances with Ötzi. Tomorrow night in Berlin, the Bellamys and Ötzi will walk the red carpet and attend the 2012 International ECHO Awards.
David Bellamy notes, "We're just on our way to Germany with quick side trips to the Canary Islands, Austria and Switzerland for an international television tour, so the news of the songs and album charting in the Top 100 on the German charts couldn't come at a better time."
About the Bellamy Brothers:
Throughout their 30+ year career, the multi-platinum selling Bellamy Brothers have charted 14 #1 Hits on the US country and pop music charts.   Hits like "Let Your Love Flow," "If I Said You Had A Beautiful Body (Would You Hold It Against Me)," "Redneck Girl," and "Old Hippie" helped to make the brothers household names.  Today, their seamless harmonies remain perfectly intact as they continue to travel the United States and European tour circuits, performing over 180 dates each year.
Click HERE for a video compilation of D.J. Ötzi & the Bellamy Brothers: Simply The Best.
D.J. Ötzi & the Bellamy Brothers: Simply The Best Track Listing:
1.  Hotel Angel
2.  Like A Star
3.  Crossfire
4.  Hey Baby
5.  Let Your Love Flow
6.  I Need More Of You
7.  Feelin' The Feelin'
8.  Forget About Me
9.  You've Lost That Lovin' Feelin
10.  Islands In The Stream
11.  Sweet Caroline
12.  If I Said You Had A Beautiful Body (Would You Hold It Against Me)
13.  The Gambler
14.  When You Walk In The Room
15.  I Can Help
[youtube]http://www.youtube.com/watch?v=wqpLTjAI7X4&feature=related[/youtube]